CHINESE JOCKEYS TO LEARN FROM ONE OF THE WORLD'S BEST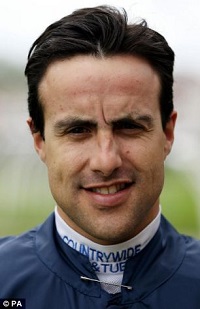 Champion jockey Darryll Holland is set to return to China for the second time in as many years to play a role in the education of young jockeys and the promotion of the sport to a new corner of the globe.
Holland has criss-crossed the globe during a 25 year career collecting no less than 27 individual group 1 wins in that time and set numerous riding record. That experience will be provided to some of the most gifted young Chinese riders ahead of the 2014 Zhejiang Nine Dragons Hill National Jockeys Challenge - 2014 CECF.
"I am delighted to offer my vast experience within the 'Sport of Kings'. Having been a professional jockey for 25 years, competing at the highest level around the world and taking in other Asian countries such as Malaysia, Japan, Singapore and Korea," Holland said.
"I am excited to offer my wealth of experience to the young Chinese jockeys about the art of race riding and the discipline that is required in being a professional jockey. I take great pleasure and satisfaction in watching the next generation develop within thesport."
Holland will ride track work with the young riders competing in the Zhejiang Nine Dragons Hill National Jockeys Challenge and provides lectures on diet and fitness, understanding the rules of racing, provide advice to individual riders on improving skillsets and discuss the importance of professionalism in a jockey's approach to race meetings.
In 2013 Holland was one of six international riders invited to compete at the inaugural China Equine Cultural Festival which was held in Hohhot, Inner Mongolia. The experience left a positive impression on the well regarded Holland.
"I am delighted to return to China 12 months on after competing at the inaugural CECF event. I was honoured to be chosen by CHC as one of the select few to be given the opportunity to attend such a prestigious event and becoming the first professional British Jockey to compete in China," he said.
"Twelve months on I will be competing against some of China's young athletes and that is a new and exciting challenge. This is very exciting for the sport in China and for the sport as a whole."
The Zhejiang Nine Dragons Hill National Jockey Challenge will take place on Sunday 12th October at the Nine Dragons Hill Polo and Jockey Club.