2014 CECF The Yangtze Delta Region Official Partner : Hurun Report
A look at the Official Partner of the upcoming 2014 CECF Yangtze Delta Region.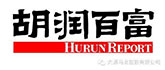 Racing with The Hurun Report:
When leisure sports and lifestyles of business elites are extolled nothing fascinates the public more than the sport of kings – thoroughbred racing. It is rich in tradition, associated to royalty, and passionately pursued by the rich. Hurun Report could have never found a matching sport of leisure that fits the profile of its high net worth readers.
This year the CECF is proud to welcome as one of its race sponsors The Hurun Report. On the occasion of the 2014 Zhejiang Nine Dragons Hill National Jockey Invitation Race CECF. A featured race the Hurun Report Cup (2400m) will see local jockeys compete against international jockeys over the longest turf distance of CECF Race Day in what will be a test of stamina and strategy.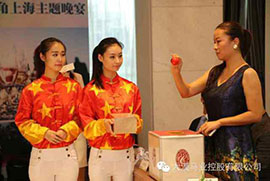 Madam Du Xin, Chief of Editorial Department of The Hurun Report draws the horse barrier for The Hurun Cup race during the CECF2014 Press Conference
Hurun Report is a monthly magazine, most famously known for its ranking of the most affluent individuals in China via the China Rich List. Headquartered in Shanghai, Hurun Report's target customer base is of high-net worth individuals (HNWI), premised on a complete multi-platform of media channels. Hurun Report's widely regarded track record has also extended to having had a profound impact on Chinese entrepreneurs. The company's businesses involve four platforms namely; magazines, new media, events and research. The magazine titles which it publishes includes Hurun Report, Hurun Schools guide, China & Horse Polo and Wings + Water.
Founded in 1999, China Rich List's 1000 listing has become China's most authoritative ranking of billionaires, and also been recognized as a China's Who's Who reference. This year, September 23 marked the 16th consecutive year that the China Rich List has been released. In the wake of the China Rich List, the Hurun Report Research Institute has released their annual Philanthropy List which lists 100 of the most generous, charitable donations in China. The Art List lists 100 of the past year's sales of works of Chinese 'national treasure' artists at auctions while the BRAND list announced the most popular luxury brands as reflected among the Chinese tycoons. The Hurun Wealth Report was released to identify the number and regional distribution of Chinese millionaires.