2014 CECF YANGTZE DELTA REGION
Nearly 200 chairmen, chairwomen and CEOs from across China and from around the world converged on Shanghai and Zhejiang over the two days of the China Horse Club's (CHC) 2014 CECF Yangtze Delta Region.
The CECF is the major lifestyle; social and thoroughbred racing event for the CHC every year promoted Chinese culture to an elite audience of captains of industry, philanthropists, members and invited guests.
In 2014 the CECF included the CECF Yangtze Delta Gala Dinner and the Zhejiang Nine Dragons Hill National Jockeys Challenge – 2014 CECF, an event designed to promote some of the best young Chinese jockeys.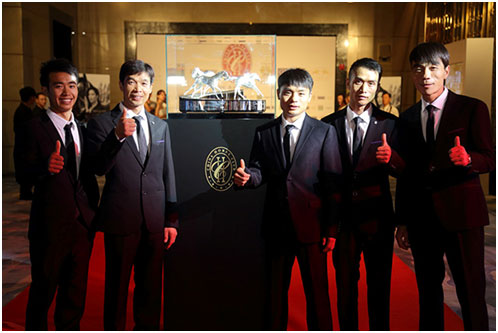 Official Partners Longines, Coolmore, Glenn Family Foundation, Hurun Report, China Daily (Official Media Partner) and NMTV (Official Broadcaster) were joined by more than 20 other sponsors at the CECF which was attended by numerous notables including:
Famous Chinese contemporary Artist Li Xiao Ling
Actress, model and Longines Ambassador Lin Chi Ling
Louis Romanet (President of the International Federation of Horseracing Authorities)
Dennis Li (President of Longines China)
Sinclair LV (President of Hurun Report)
Sir Owen Glenn (CHC International Advisory Council Member, sponsor and Founder of the Glenn Family Foundation)
Tom Magnier (Head of Coolmore Australia)
Eddie Irwin (Director of Finance Coolmore and representative of CHC International Advisory Council Member John Magnier)
Mr Tan Guong Ching (Chairman of the Singapore Turf Club)
Laurence Xu (Famous Chinese fashion designer)
"The 2014 CECF Yangtze Delta Region has been very well received. Our partners and sponsors are please, our owners have enjoyed two fantastic events and it is rewarding to hear that," said Mr Teo Ah Khing, Chairman of the China Horse Club.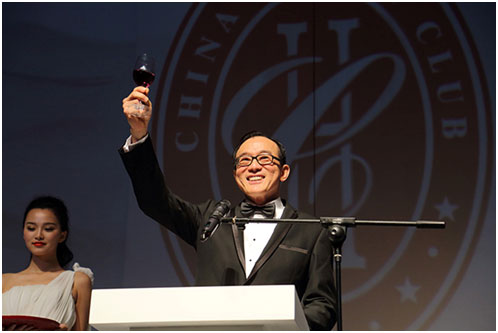 "This year's event is another step forward on a journey to provide wonderful experiences for our members, partners and sponsors and friends from across China and abroad. I believe it has been a meaningful step forward. Our theme for 2014 has been to 'Bring The World To China and China To The World', we have had nearly 200 chairmen, chairwomen and CEOs at our events and for a festival like this in China, that is new ground."
The CECF Yangtze Delta Region Gala Dinner showcased traditional Chinese and contemporary Chinese performances and a fashion show by renowned designer Laurence Xu, however it was the unveiling of four unique Blanket Art Works which stole the show. The four horse blankets, one for each of the races at the Zhejiang Nine Dragons Hill National Jockeys Challenge – 2014 CECF, included a unique piece of art by one of four of China's leading contemporary artists. The four artists, Yue Minjun, Li Xiao Ling, Xu Lei and Peng Wei, are recognized for their contribution to contemporary Chinese arts and areappreciated internationally.
The evening also saw an official 'Exchanging of Documents' between CHC and the Singapore Turf Club to confirm the hosting of the first international CECF in 2015, the 2015 CECF Singapore, which will be held during Chinese New Year.
The Gala Dinner was a precursor to the Zhejiang Nine Dragons Hill National Jockeys Challenge – 2014 CECF which saw eight local riders pit their skills against one another as well as high class international jockeys Darryll Holland and David Flores.
Honours for the race day were owned by the Chinese riders with three of the four events taken out by them. Holland landed the first blow when bringing former talented Irish juvenile, The Ferryman (Ire), was a late burst to collect the RMB500,000 Sir Owen Glenn Spring Cup (1000m) from fellow international rider Flores (Flaming Aura). But that was the only time the two international riders shared the finish.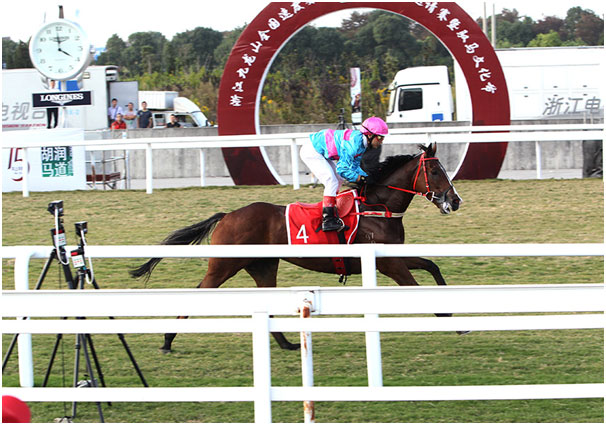 Talented young rider, Chen Li, saluted aboard Alcott (NZ) with an adept front running ride in the RMB500,000 Hurun Report Cup (2400m) while jockey Shan Hailong raced away with the RMB500,000 Longines Mile (1600m) and the RMB500,000 Coolmore CECF Singapore Cup (1800m) with Commengy (Aus) and Manus (Aus) respectively.
The Zhejiang Nine Dragons Hills National Jockey Challenge – 2014 CECF would not have been possible without the assistance of international racing jurisdictions Racing NSW, Singapore Turf Club, Mauritius Turf Club, Irish Turf Club and France Galop who all provided senior staff to help run the day.