China Daily Teams up with 2014 CECF Equine Cultural Festival as Strategic Partner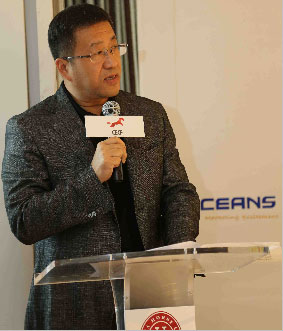 (Extract from China Daily Web President Zhang Xin Po Speech)
Honorable Guests, Ladies and Gentlemen,
Good Day!
I am glad to be here at the 2014 Zhejiang Province Nine Dragons Hill National Horse Racing Jockey Challenge Match and Equine Cultural Festival press release!
Chinese has a long history of knowing horse and loving horse, horse racing is not new for them. Chinese especially love thorough bred horse, Tang and Song Dynasty poets wrote a lot of poems to praise the beauty and excellently of the horse. Swift horse that has the speed like the wind is Chinese dream horse, Swift horse also used to describe a prominent and talent people. Hence, we can know that Horse plays an important role in Chinese Cultural.
In 2013, The China Horse Club (CHC) has successfully organized the very first China Equine Cultural Festival at Hohhot, bringing the thoroughbred horse racing that symbolize internationalize and high-end lifestyle to China. Horse racing as the symbol of prestige and wealth has attracted a lot of attention inside the country and even overseas, it's help to promote the modern Equine Industry in China.
As China prominent news website and China largest English website, China Daily always bring the high quality news to readers, it has strong international communication influence and overseas promotion systems, its website service covered all provinces in China, well-known and popular among high-end society in China and Overseas.
Thus, The China Horse Club (CHC) that has international high-end members and promotes equine cultural new lifestyle is highly accord with China Daily core value and existing high end readers. These two parties are a perfect match and the collaboration will benefit both of them. China Daily will fully utilize it's currently platform in China and Overseas to promote China Equine Cultural Festival nationally and worldwide. We also hope that we can work with CHC to organize big event such as Equine Industry Forum and invite various department like General Administration of Sport and Department of Agriculture to discuss and work out the way to promote Modern Equine Industry in China so that it can develop.
Both parties have its own resources and influence, I believed with the cooperation of these two parties, we can come out with the fruitful outcome.
Last but not least, I would like to wish this challenge match a big success. And wishing our honorable guests all the best!
Thanks you!
Mr.Zhang Xin Po
President of China Daily Web