China Horse Club Unveils Another Superstar
12 months ago, the Australian trainer, John P. Thompson had been given the task to saddle up 23 China Horse Club's (CHC) thoroughbred horses at the inaugural China Equine Cultural Festival (CHCF) in Hohhot, Inner Mongolia. After the conclusion of the event, Thompson declared that his professional career had made a significant step forward advancing into Mainland China, a market that is yet to be discovered. The quietly spoken, humble and dedicated Thompson was extremely excited about the lightly race filly First Seal, despite her lacking of race experience, she is in supreme winning condition. First Seal bested some of the best Australian fillies of her generation in the AUD$175,000 G2 Coolmore Tea Rose Stakes (1400m) with great ease. Once again, she has proven herself to be the most promising 3 year old Australian filly of her generation.
First Seal is co-owned by the China Horse Club and its 3 acclaimed Malaysian members – Dato' Tan Chin Nam (4 times Melbourne Cup Champion, current CHC IAC), Dato' Yap Kim San (CHC thoroughbred breeder), John Chua and Tunku Ahmad Yahya.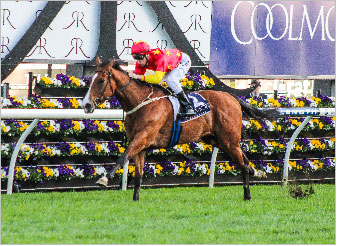 First Seal was gifted to Thompson as a token of gratitude and appreciation for his exceptional contribution and support in what would be the first internationally endorsed thoroughbred race meeting ever held in Mainland China, which established and organized by CHC. Last year in Hohhot, Thompson's dedication and commitment towards promoting the sport of thoroughbred racing in China allowed the CHC to experience his qualities as a person and a trainer. Subsequently, he became the one of the most significant international trainers the club chosen to train its thoroughbred horses.
"This is a fantastic result, not simply because a wonderful filly won a stake race but because of the people associated with this, and it made all of us more successful." said Mr Teo Ah King, Chairman of the China Horse Club, on the Saturday's victory.
"The CHC is extremely honoured to witness the amazing growth of First Seal with Dato Tan, Dato Yap, John and Tunke Ahmad. The team itself has determined this will be an extraordinary co-operation. Dato Yap bred this filly and he was delighted after the race and we are delighted for him both as a breeder and as an owner.
"Coolmore, our international breeding strategic partner and good friend, is the official partner of this race, we are delighted to support them by fielding our best runners and winning a high-standard race that carries their name.
"And John Thompson is a fantastic young man, he and his team, headed by Andree Rabbett, build a good reputation within the industry. John and Andre worked tirelessly before during last year's CECF, provided the club with excellent service, and we recognized and valued their professionalism. Hopefully this is the start of a fantastic journey towards more wonderful co-operation between the two parties."
John Thompson, as the trainer of the G2 Coolmore Tea Rose Stakes (1400m) Champion, received the trophy from Coolmore Australia Farm General Manager, Tom Magnier.
First Seal triumphed in the race by a widening three-quarter of a length from the previously undefeated Winx and the powerful Sheikh of Dubai, Sheikh Mohammed Bin Rashid's Earthquake. While having his first race ride of the daughter of Fastner Rock, Jockey Blake Shinn showed his unambiguous confidence in her. During the first half of the race, Shinn held back First Seal behind race leader Earthquake, he waited until he entered the final 200m before letting his mount loose, allowed her to race with full power towards the finish line. This was the performance Thompson had long expected this amazing filly would deliver.
"To be given the opportunity to train a brilliant filly like this for CHC, its members and fellow owners, I feel extremely honoured. And I shall never forget the support the club has provided at this critical moment of my career." Thompson said post-race.
"A news report quoted that I apparently mentioned First Seal is the 'best I have ever trained'. I don't remember saying that but I do believe she probably is."
Thompson truly believes that First Seal will qualify the assessment to race in G1 Flight Stakes (1600m). The race will be run just days before the commencement of The Zhejiang Nine Dragons Hill National Jockey Invitation Race – 2014 CECF.
"I'm disappointed I can't attend the CECF again this year (11th – 13th October). I really enjoyed last year, and I can imagine this year's festival will be even more exciting." Thompson said.
"But at this moment I can't leave her (First Seal). She is a super filly, and we have to give her our best care and work out her race plans diligently. I can't wait to see her run in 1600m and then 2000m races."