CECF SINGAPORE LAUNCHED IN SHANGHAI
Leading media, sponsors and racehorse owners from across China were drawn to the Swatch Art Peace Hotel in Shanghai for the official Chinese launch of the CECF Singapore – the first international China Equine Cultural Event held by the China Horse Club.
The newly announced event will be held in the world class centre of Singapore over the weekend of 21st – 22nd February 2015 and will promote some of the best virtues of China as part of its mantra of 'Bringing the World to China and China to the World'.
The CECF Singapore will be a multi-faceted event with the lynch pins of the festival being a charity cocktail party and an elite day of thoroughbred racing that will see Chinese owners compete for the richest race prize ever run in Singapore. The festival will also promote Chinese culture and the arts, charity and be a peerless networking opportunity for an international audience.
The Chairman of the China Horse Club, Mr Teo Ah Khing, and Chairman of CECF Events, Mr Ng Chee Choy, were joined by Sun Bing (Vice President of the China Daily Website), Tian Qiang (Vice Secretary of Asia-Pacific Financial Council), Hu Xue Fei (China Horse Industry Association), Jin Yu Sheng (Hurun Report Business Development Director), Li Gang (General Manager of Caissa [Shanghai]), Cheng Cheng (Deputy General Manager of Pacific Links [Shanghai]) and Xu Ruifen (Vice President of Oceans) in a symbolic ceremony to officially launch the CECF Singapore.
The occasion also saw the signing of a Memorandum of Understanding between the China Horse Club, China Daily Website, Asia-Pacific Financial Council (APFC), Caissa, Hurun Report, PacificLinks and Oceans to work together for the betterment of the China Equine Cultural Festival both locally and internationally.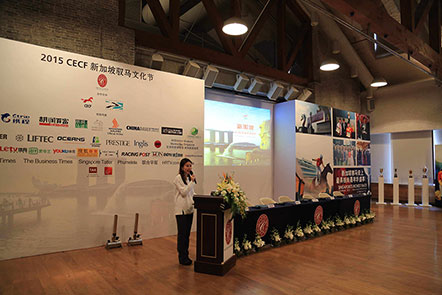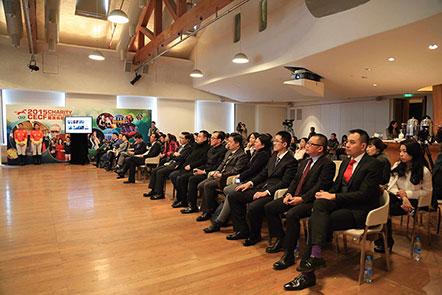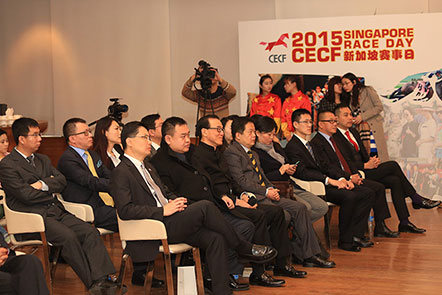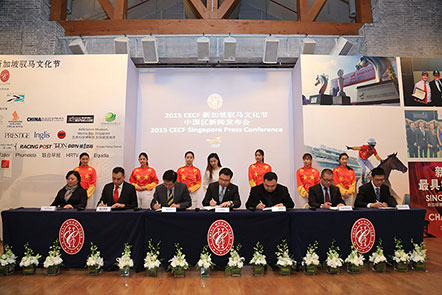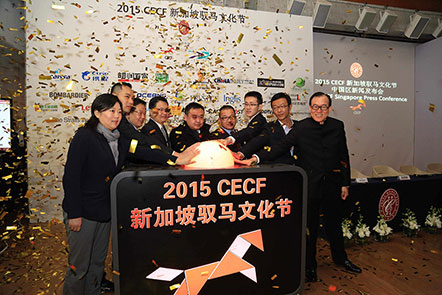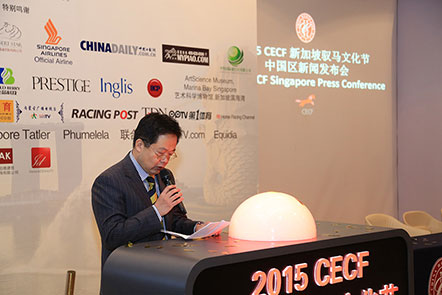 CECF was successfully held in Hohhot and Shanghai in 2013 and 2014, respectively. The Lion City is CECF's first venue outside of mainland China, an international platform that will push against all boundaries and establish a bridge between the east and the west. Singapore Turf Club, with its 173 years of racing history in Singapore, will join CHC to explore opportunities in the Chinese market. "CECF will contribute to Singapore's tourism industry by positioning the vibrant Lion City as the destination to be at for ultra high net worth Chinese travellers. Riding on the 2014 theme of 'bringing China to the world and the world to China', CECF Singapore is the perfect opportunity to put this theory into practice," said Mr Teo. The press conference also included a segment in which participants could learn more about racing and other business opportunities available during CECF Singapore in February.
CECF Singapore is scheduled on the 21 and 22 February, the third and fourth day of Chinese New Year. It will be the time the richest race in the local scene will be held (G1 CECF Singapore Cup), a perfect opportunity for horse owners from mainland China to step up their game on an international platform.
During this two-day festival, CHC members and guests will enjoy a spectacular cocktail party and an exciting race day. There will also be a programme for guests that includes closed door shopping experiences with premium brands, tailored seminars, an invitation-only after party, hospitality packages, charity art auctions and more. CECF Singapore will provide Chinese horse owners an exclusive experience while also enabling them to interact with and foster connections with other outstanding international members of the thoroughbred industry.
2015 CECF Singapore highlights:
Charity Cocktail Party: Chinese artists Li Xiao Ling and Mao Wen Biao will headline an evening of art, entertainment and networking at Marina Bay Sand's iconic ArtScience Museum
CECF Singapore Race Day: the Singapore Turf Club will be the venue for a day of racing and entertainment which will include international and local racehorses, trainers and jockeys.
The two races are the $3.05 million G1 CECF Singapore Cup (1800m) and the G3 CECF Singapore Classic (1400m) with prizemoney of $200 000.
Closed door shopping experiences with luxury brands
Tailored seminars for CHC members
For more information ,please contact:
Zhang Cong : 13717901582, zhangcong @ ic-mass.com
Fu Pei Pei : 18516655400, This email address is being protected from spambots. You need JavaScript enabled to view it.
ABOUT CHC 
The China Horse Club is China's premier lifestyle, business and thoroughbred racing club and it provides peerless experiences for members and their guests. The CHC has partnered with leaders of industry from around the globe to ensure its members have an unparalleled experience both at home and abroad. In the last 18 months the CHC's members have also enjoyed 62 individual winners across eight countries including the internationally recognized Investec Epsom Derby, the Irish Derby, Juddmonte International, the Longines Singapore Gold Cup and Coolmore Flight Stakes in Australia. For more information about China Horse Club, please visit http://chinahorseclub.com/en/.
ABOUT STC
Founded in 1842, Singapore Turf Club is a proprietary club of Tote Board. With over 170 years of horse racing history, Singapore Turf Club provides the public with quality horse racing sports entertainment and is home to the prestigious Singapore Airlines International Cup. For more information about Singapore Turf Club, please visitwww.turfclub.com.sg.
CECF Singapore 2015.1.13