KIT CHAN A HEADLINE ACT AT CECF SINGAPORE RACE DAY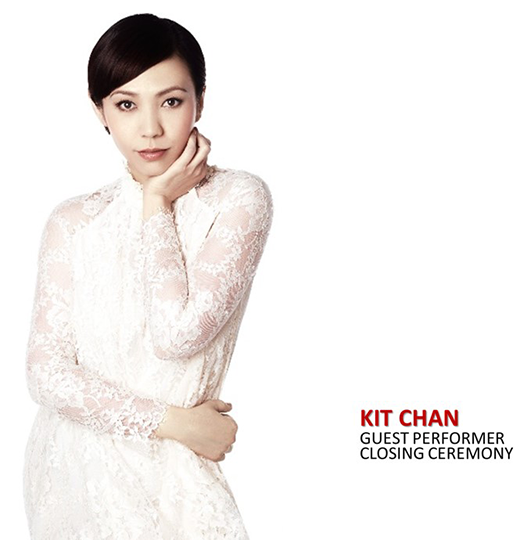 FANS of Singapore's "national treasure"Kit Chan, received a welcome surprise when she was announced as one of the headline acts for an upcoming lifestyle, cultural and sporting festival in Singapore during Chinese New Year.
The Singapore songbird will perform during the Closing Ceremony to the CECF Singapore Race Day on Sunday 22nd February, providing fans of the show with a chance to see her live. The announcement of her involvement in the two day China Equine Cultural Festival comes as Kit Chan's fan base in China and across Asia continues to grow with her recent participation in I Am A Singer 3.
The CECF Singapore is the first international China Equine Cultural Festival and will be held over 21st – 22nd February. Joining Kit Chan at the festival will be celebrated Chinese painters Li Xiao Ling and Mao Wen Biao as well as high profile jockeys and trainers from the world of international horse racing.
Li Xiao Ling and Mao Wen Biao will be among a growing list of artist providing works for a charity auction. The auction will be a feature during the CECF Singapore Charity Cocktail Party which is drawing notable guests from China and around the world.
The CECF Singapore Charity Cocktail Party will be held at the iconic ArtScience Museum at Marina Bay Sands and will be a precursor to the CECF Singapore Race Day which will see the running of the richest horse race ever run in Singapore, the S$3.05 million (RMB 14 million) CECF Singapore Cup.
Tickets to the CECF Singapore Race Day can be purchased through:
China:
Ctrip:                http://huodong.ctrip.com/activity/2319084.html
Mypiao.com:      http://www.mypiao.com/ticket/100065512
Tunia.com:        http://menpiao.tuniu.com/t_7244
Singapore:
Sino Elite          (6438 1896)