AUSTRALIAN RUNNERS ARRIVE FOR CECF SINGAPORE CUP
Gifted gallopers Auvray, Zululand and Orbec touched down at Singapore's Changi Airport this afternoon bringing the number of international runners to have arrived for the upcoming CECF Singapore to six.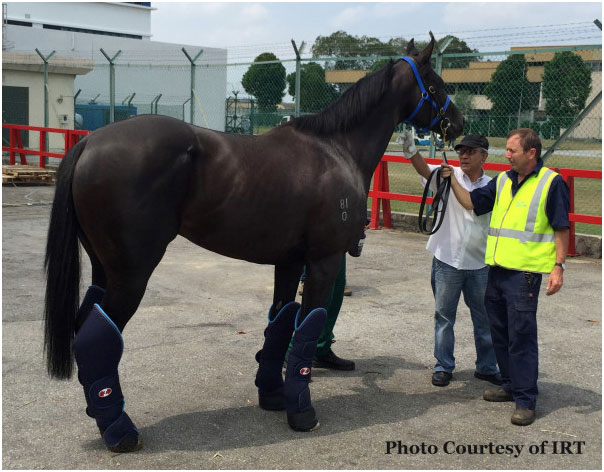 'Zululand touches down in Singapore with Orbec and Auvray. The G2 winner is among the elite runners for the upcoming S$3.05m CECF Singapore Cup'
The three stallions arrived from Australia just a day after Parranda, My Option and Bajan flew in from the US and their presence has already sent a buzz around racing in Singapore. Both Auvray and Zululand are both G2 winners from limited starts to date and Orbec is a highly promising performer who wasn't beaten far in the G2 Prix Hocquart behind subsequent G1 Cox Plate winner Adelaide at his fourth career start in France.
Australian trainer John Thompson is currently overseeing the preparation of the China Horse Club's crack filly First Seal ahead of her seasonal debut in the G2 Light Fingers Stakes but his enthusiasm at his first international training foray could not be hidden. The Sydney based mentor has not had Auvray and Orbec in his care for long but he continues to be impressed by how they are preparing ahead of the S$3,050,000 CECF Singapore Cup (1800m).
"We are very excited to be heading to Singapore for the inaugural CECF held in Singapore with two high quality colts. It is not only an honour to have been given them to train but it is an honour to be part of this exciting day and event with them," Thompson said today.
"It is a challenge to take two horses to another country and run in a big race first up over a distance a little short of their best. But my old master Bart Cummings always said 'Class always rises to the top!' These two horses are with a capital 'C'."
Thompson has fond memories of the China Equine Cultural Festival having overseen an Australian based racing team in 2013. That adventure was in Hohhot, Inner Mongolia, the capital of Asia's horse culture, and he saluted in the RMB500,000Longines Mile. Two seasons on and he is preparing another raiding party for the richest race in Singapore.
"John holds a special place in the short history of the China Equine Cultural Festival. Our members remember him fondly for his success two years ago and it is fantastic to see him involved once again," said Ng Chee Choy, Chairman of the CECF Singapore Organizing Committee.
"Much has happened since that first CECF and with the support of trainers like John and Jason Warren, who is overseeing Zululand who also flew in today, we believe Singapore has a new and unique festival on its already engaging calendar of events."
The two day CECF Singapore will be held over the weekend of 21st and 22nd February.