EIGHT INTERNATIONAL RUNNERS CONFIRMED FOR SINGAPORE'S RICHEST RACE

EIGHT INTERNATIONAL RUNNERS CONFIRMED FOR SINGAPORE'S RICHEST RACE
Star U.S. race mare Parranda (USA) will face seven international rivals, a local star and an outside barrier as she tries to add to her imposing record in the inaugural S$3,050,000 CECF Singapore Cup (1800m) this Sunday. The Christophe Clement trained runner contested some of the most prestigious mare races in the United States last year and enters the richest race in Singapore's history off the back of an imposing win in the G3 Marshua's River Stakes. However, she will need to be at her best to account from runners from France, Australia, the United States and Singapore.
"The quality of racehorses, jockeys and trainers involved in the inaugural international China Equine Cultural Festival is there and we are delighted by that," said Eden Harrington, General Manager of the China Horse Club.
"Among the nine stakes winners are a local G1 winner (Tropaios), performers that have G2 races in the United States (Parranda), Australia (Zululand) and France (Auvray) as well as elite jockeys such as Christophe Soumillon, Tommy Berry, Jamie Spencer, Hugh Bowman and Darryll Holland and local stars such as Manoel Nunes, Corey Brown and Craig Newitt. It is a good mix of talent and this weekend it will be very interesting to see how this Cup pans out.
"The CECF Singapore is the first international China Equine Festival we have hosted and the field for the feature event made up by star racehorses owned by members. Our members are excited, that is what this is all about. We are striving to create interest and participation in thoroughbred racing from the people of Mainland China so this event has a real purpose to it. Hopefully the industry at large sees the benefit of it, enjoys the festival and supports it going forward so we can continue to work to make it bigger and better. "
Michael Freedman is the only Singapore based trainer involved in the inaugural CECF Singapore Cup and sees tremendous merit in both the race and the festival at large. His seasoned gelding Tropaios caused a stir in China when winning the 2013 S$1.35 million G1 Longines Gold Cup and will again represent Singapore against international competition.
"This is a fantastic race for Singapore to be hosting. Whenever you have a race of this quality and with this prize money on offer it is going to be a huge boon for Singapore. It is a fantastic opportunity for racing in this country to promote itself to mainland China," said Freedman.
"I'm happy with how Tropaios is shaping up for the CECF Singapore Cup, he is ticking over well. We have changed his gear for this run. The blinker pacifiers will come off and we will put the ear muffs back on him. I just want to try and have him relax in his races and not fight his rider. We know that when he relaxes he can run very well."
Fellow trainer Francis-Henri Graffard is pleased with how his charge, Summer Surprice, is settling into Singapore having arrived from France over the weekend. The chestnut mare flew in with the Nicolas Clement trained Ming Zhi Cosmos and is the first Asian runner for the attentive young trainer.
Ming Zhi Cosmos
"Summer Surprice will be well suited to the left handed track and the fast ground [in Singapore]. I also know [jockey] Hugh Bowman, he is a good rider," Graffard said today.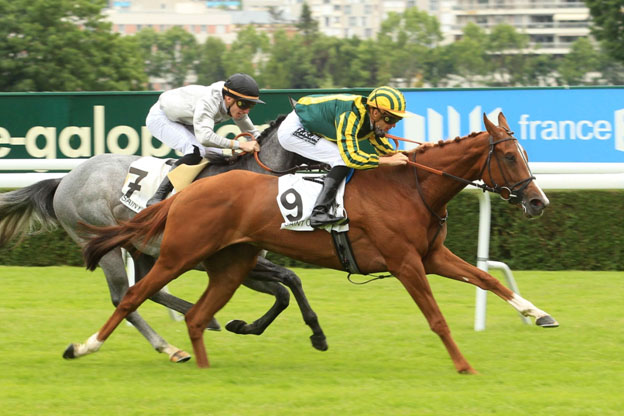 Summer Surprice
"I am very excited to be coming down to Singapore. We have been racing in America before and other countries as well but this is our first visit to Singapore. [Summer Surprice] is a quality filly. The race may be a touch short for her but I have put blinkers on her to try and make sure she doesn't lose too much ground at the start, I know she will be finishing strongly."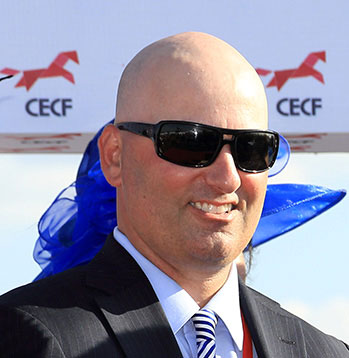 John Thompson
Australian trainer John Thompson faces a testing assignment with his talented gallopers Auvray and Orbec. The Sydney based horseman has only had the duo in his care for a few months and both will debut for him in the CECF Singapore Cup. And while Thompson hasn't had a chance to fully assess his two former French based four-year-olds what he has seen has impressed him.
"I will have to do my homework on our opposition over the coming days, there are some quality horses here from all over the world, but I am happy with my two," Thompson said.
"Orbec has hit the ground running, Auvray took the flight a little tougher but he is on the rise again. Both are very tough horses and they are used to travelling. What I can say is that Orbec and Auvray are both quality horses and I'm looking forward to seeing them in this race."
The $3,050,000 CECF Singapore Cup (1800m) and $200,000 CECF Singapore Prestige Classic / CECF 新加坡品Prestige经典赛 (1400m) will be held at Singapore Racecourse this Sunday.