AARON KWOK RACING TO WUHAN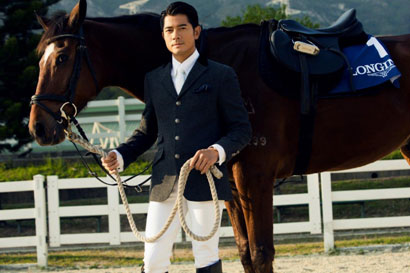 AARON KWOK RACING TO WUHAN
It will be the second time the charismatic Kwok will ignite a CECF event having been mobbed by fans ahead of the award presentations for the RMB500,000 Longines Mile at the inaugural 2013 CECF Hohhot. Kwok, one of Asia's most popular artists, has earned more than 100 awards in a career exemplified by singing, dancing, acting and charitable works. Kwok became a Longines Ambassador for Elegance in 2005, the same year as ethereal actress and model Chi Ling Lin who mesmerized crowds at the 2014 CECF Race Day.
The Wuhan Autumn Opening Race and CECF Wuhan will be held on Saturday 19th September and the presence of Kwok was confirmed after Longines recently extended its partnership with the China Horse Club. Longines, the world leader in equine timekeeping, is the 'Official Partner', 'Official Timekeeper' and 'Official Watch' of the China Horse Club and the CECF.
"Longines is the world leader in sports timekeeping and it is rewarding to continue our relationship with them. Longines is exclusively associated with elite international equine events and it is a great statement of faith from them that the CECF is included as one of the international carnivals Longines partners alongside events such as Royal Ascot, the Dubai World Cup carnival, Kentucky Derby and Oaks, Prix de Diane and more," said Teo Ah Khing, Chairman of the China Horse Club.
"Longines is a very good friend to thoroughbred racing and this extends to China where it is working tirelessly alongside organizations such as the IFHA to bring the sport to new levels of excellence."
Juan-Carlos Capelli, Longines' Global Vice President and Chief Marketing Head, will be together in Wuhan on 19th September 2015 for the next edition of the CECF.
"This is the third year of Longines working hand in hand to CHC as partners and be the Official Timekeeper as well as the Official Watch of the China Equine Cultural Festival," MrCapelli said.
"CECF is an event that promotes Chinese equine culture and the current racing industry to the rest of the world. It shows the noble glamour of horse racing and the elegance of the new Chinese generation. We are very honoured to support CHC to present this wonderful horse racing event.
"Longines has been supporting equestrian sports for more than a century. The breathtaking beauty, elegance and precision of the racing also match Longines' profile."