MAGIC MILLIONS AND CHINA HORSE CLUB FURTHER STRENGTHEN ONGOING RELATIONSHIP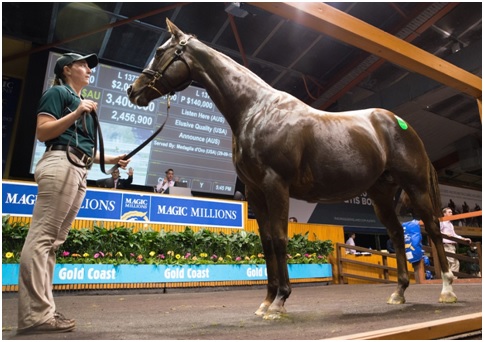 China's emergence as the most dynamic new thoroughbred centre has not been lost on Magic Millions whose presence in the region has been grown considerably in recent years. In 2016 the Australian auction house will again play a definitive role at one of the country's premier racing festivals having committed to extending its involvement at the 2016 CECF Ordos.
Magic Millions began its involvement with the CECF in 2013 and its relationship with the events founder, China Horse Club, has only gone from strength to strength in the ensuing years.
"China Horse Club is now a major world player in the Thoroughbred racing and breeding industry. Like Magic Millions, China Horse Club is a young innovative company with new ideas and strategies that have made the traditionally conservative thoroughbred industry sit up and take note," said Vin Cox, Managing Director of Magic Millions.
"The China Horse Club leads the way in conducting high quality, professionally run race meeting in China introducing many of the world's racing elite to the owners and breeders of China. The China Horse Club racing festival highlights the sport of kings with all the 'fanfare' and social events that are synonymous with the major racing carnivals of the world."
China Horse Club has continued to utilize Magic Millions as a source of quality thoroughbredsand in 2016 made its presence felt by being the biggest spender at both the 2016 Gold Coast Yearling Sale and the 2016 National Broodmare Sale. At the National Broodmare Sale the China Horse Club made 14 notable purchased including the headline act, Listen Here (AUD$3.4million), currently recognized as one of the most prized broodmares in the world, in partnership with Bruce Neill's Cressfield Stud.
"Occasions like the CECF Ordos are vitally important at the grassroots level in developing new interest in thoroughbred racing. It is only with the support of companies like Magic Millions that these events are possible," said Eden Harrington, Vice President and Head (Partnerships/Membership).
"Magic Millions is a world class auction house. They have continued to build upon their reputation by not only promoting world class auctions but by helping grow new markets and China is showing that it is a key market that deserves to be fostered."
The China Equine Cultural Festival is part of the 2016 Third International Nadamu, a nationally significant event, and will be held over the weekend of the 20-21st August 2016 in Ordos Inner Mongolia. This will be the first Mainland Chinese race meeting ever streamed lived across both domestic and international media platforms. Please check www.cecf.co for further streaming details and times.
Magic Millions is a Gold Partner at the 2016 CECF Ordos.