TATTERSALLS CONTINUES ITS PARTNERSHIP AT THE 2016 CECF ORDOS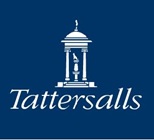 Tattersalls, one of the world's premier auction houses, has reaffirmed its belief in the Chinese thoroughbred market and in the China Equine Cultural Festival as a vehicle to tap into this market by continuing its involvement with the leading lifestyle and cultural festival in 2016.
"China is a land of huge potential in so many areas and the future impact of the world's most populous country on the thoroughbred industry is an exciting prospect," said Jimmy George, Marketing Director of Tattersalls.
"Horse racing is a global sport and its growing popularity in China has the potential to increase demand for the thoroughbred on a global scale.
"Tattersalls has been a proud support of previous CECF events and on every occasion we have been hugely impressed by the professionalism and enthusiasm shown by the hosts and all the participants.
"Thoroughbred racing is relatively new to China but each CECF event has brilliantly captured the excitement of the sport and has succeeded in widening its appeal in this market of massive potential.
"Tattersalls is proud to be associated with the 2016 CECF Ordos. Ordos is regarded as the 'Desert Jewel' of China and the event promises to combine history and culture with the excitement and thrill off top class thoroughbred racing."
The China Horse Club has enjoyed wonderful success in a limited time frame with Tattersalls with the club's talismanic Australia one of the premier graduates in "who's who" of stars to have emerged over the last decade. The highly promising Lockheed, a winner at Glorious Goodwood, at only his second career start is bidding to carry on the success members have enjoyed from the Newmarket based auction house.
"Tattersalls has been a happy hunting ground for our club. Australia has played a pivotal role in the Chinese marketplace. We may never fully appreciate the importance of this champion colt and how he has helped demonstrate to the Chinese what is possible in a wonderful sport," said Eden Harrington, Vice President and Head (Partnerships/Membership) of the China Horse Club. "But it is important to ensure that while Australia casts a mighty shadow he is not the only Tattersalls graduate that our members have enjoyed success with. Hans Holbein on the G3 Chester Vase in 2015 before competing in the Epsom Derby and this season Lockheed has emerged as a highly promising young performer. So every year we have had at least once exciting graduate emerge from Tattersalls and this is the reason our members enjoy returning season after season.
"The CECF is honoured to have Tattersalls as a partner at the 2016 CECF Ordos. Their involvement this year is a continuation of their participation at the CECF and only strengthens the standing of this event as a feature on the Chinese racing calendar."
Tattersalls is a CECF Gold Partner at the 2016 CECF Ordos.