KEENELAND STRENGTHENS RELATIONSHIP WITH CHINA BY SPONSORING THE CECF ORDOS

Keeneland has a steep history of leading the American marketplace and driving new initiatives in the racing and breeding industries and this mentality remains in place after the world class auction house was confirmed as the latest high profile partner of the upcoming CECF Ordos.
Keeneland has previously throw its considerable support behind the China Equine Cultural Festival (CECF) and has again ensured the American industry is building relations in the world's fastest emerging marketplace with its positive approach to China and the CECF.
"Keeneland has long championed Thoroughbred racing and breeding; seeking to grow the sport by expanding its fan base and lending support and expertise to emerging and racing markets around the world," said Geoffrey Russell, Keeneland's Director of Sales.
"China offers an exceptional new market for Thoroughbred racing and breeding and the potential to create a legion of racing fans who will embrace its pageantry and excitement. Such growth would positively impact not only China, but Thoroughbred racing worldwide.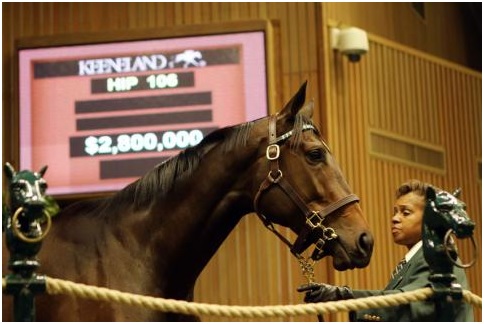 "CECF offers an opportunity to introduce Keeneland and Thoroughbred racing and breeding to a vast Chinese audience. We welcome the chance to forge new relationships with horsemen and business leaders from both established racing markets as well as emerging markets throughout Asia."
Keeneland's September Yearling Sale and November Breeding Stock Sale have been the auctions of choice in the United States for members of the China Horse Club and in 2016 that involvement will extend further with the sale of the club's first yearlings which are entered into the Keeneland September Yearling Sale.
"Keeneland is not only a world class operator, they have long championed the sport and initiatives to grow the sport on a global scale. The desire to contribute in the best interests of the industry remains in place today with Keeneland as a Gold Partner at the CECF Ordos," said Eden Harrington, China Horse Club Vice President and Head (Partnerships/Membership).
"The sport in China is developing and it is with the support of industry leaders like Keeneland that it is able to continue on the upward trajectory that it is on."
The support of the industry in China follows initiatives from Keeneland to support other emerging industries in Central and South America as well as established centres such as Europe and Australia.
"As one of the world's largest consumer markets, China holds boundless potential," Russell said.
"China Horse Club has purchased a number of horses at the Keeneland sales, and they have already enjoyed success with their first runners. There is great opportunity to involve even more Chinese fans as they discover the exciting lifestyle associated with Thoroughbred ownership."
To learn more about Keeneland please visit www.keeneland.com. Keeneland is a Gold Partner at the 2016 CECF Ordos.