JOHN WARREN APPOINTED AS NEW CHAIRMAN OF CHINA HORSE CLUB'S INTERNATIONAL ADVISORY COUNCIL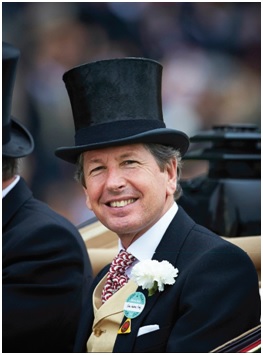 The Honorable John Warren has been confirmed as the new Chairman of the China Horse Club's International Advisory Council on the eve of its flagship CECF Ordos (20th – 21st August) this weekend.
Mr Warren, Her Majesty The Queen's Racing and Bloodstock Advisor, is a world renowned bloodstock agent and industry authority as well as the proprietor of Highclere Stud with his wife Lady Carolyn. He takes over the chairmanship from Professor Dr. Joseph Deiss who served for two terms.
Mr Warren brings wide ranging expertise to the chairmanship of the International Advisory Council at a time when China's involvement in thoroughbred racing and breeding is growing exponentially both domestically and internationally. In just over three years the China Horse Club alone has won a dozen G1 races including the Epsom Derby as well as almost 160 individual races across eight countries; it owns in 14 stallions that have either retired or will be retiring in the next 12 months and it has raced champions in partnership including Australia (2014 Longines Co-World Champion Three-Year-Old), Dissident (2014/2015 Australian Racehorse of the Year) and First Seal (2014/2015 NSW Racehorse of the Year).
"I am delighted to accept the post as Chairman of the China Horse Club's International Advisory Council as I believe this dynamic organization has great ambition to own and race horses all over the world at the highest level and associate itself with leaders in the bloodstock industry who share the same goals," Mr Warren said.
"Horseracing is an entertainment business and the China Horse Club provides access to members in a world that is full of excitement, intrigue and glamour and the forthcoming CECF event in Ordos will give a taste of what is on offer on the world stage."
Professor Dr. Deiss, the former President of the Swiss Confederation and the President of the 65th United Nations General Assembly, was among the first to wish Mr Warren well in his new post.
"I'm very glad to learn that John Warren will take over as Chairman of the IAC," Professor Dr. Deiss said.
Mr Warren will be among 300 captains of industry from across China and around the world that are descending on Ordos this weekend for the annual China Equine Cultural Festival (CECF). The event has become a recognized platform for business networking, cultural exchange and thoroughbred racing and in 2016 is drawing together partners of the standing of the Inner Mongolia Yitai Group, Australian Turf Club, Desert Star Holdings, CDP, LETV, Travel TV, BBX, Keeneland, Tattersalls, Inglis, Magic Millions, Goffs, Irish Thoroughbred Marketing, Arqana, New Zealand Bloodstock, Horserail, Grand Gourmet and more.
The International Advisory Council members include Mr John Magnier (proprietor and founder of Coolmore), Mr Andreas Jacobs (Chairman of Jacobs Holdings, Chairman of Barry Callebaut and Vice Chairman of Adecco SA), Mr Wayne Wang (Founder and Chairman of CDP Group Limited), Mr Poh Choon Ann (Group Chairman and CEO of Poh Tiong Choon Logistics Group) and Mr Teo Ah Khing (Chairman of the China Horse Club, Chairman of Desert Star Holdings and Chairman of TAK Design Consultants).