CHC DRIVING CHINA'S THOROUGHBRED INDUSTRY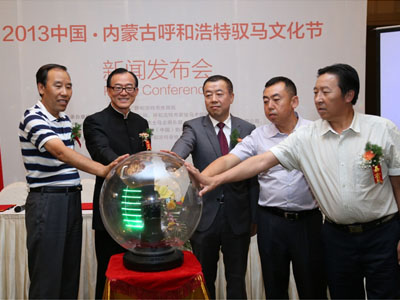 More than €100 million worth of thoroughbreds could be imported into China within the next decade in a program that would fast-track the growth of China's emerging thoroughbred industry and immediately make it one of the largest importing nations on earth.
The progressive plan was announced today by the China Horse Club during the official launching of the 2013 China Equine Cultural Event in Hohhot, Inner Mongolia. The China Equine Cultural Festival (8th – 21st September) is set to be a celebration of international thoroughbred racing in Mainland China with participation from owners, breeders, officials and jockeys from many of the world's premier jurisdictions.
The Inner Mongolia region was singled out as an ideal location to host the inaugural China Equine Cultural Event because of its historic equine heritage, favourable natural and political environment, enthusiastic local thoroughbred owners and matured infrastructure.
"There is every reason to believe the China Equine Cultural Festival can be the catalyst for the successful emergence of China's thoroughbred industry," said Mr. Teo Ah Khing, Chairman of the China Horse Club.
"Our organization is looking forward to playing a lead role in growing the thoroughbred industry in China and this role may be as significant an investment as sourcing €100 million worth of stallions and mares over the next 10 years.
"The China Equine Cultural Festival will be built upon to be a world class carnival within this country. That in turn will promote involvement from local Chinese in racing and breeding and encourage wider participation from established regions."
The CECF China Equine Cultural Festival • Hohhot 2013 will include:
• an International Symposium hosting local and international speakers such as His Excellency Professor Joseph Deiss, the former President of the United Nations General Assembly;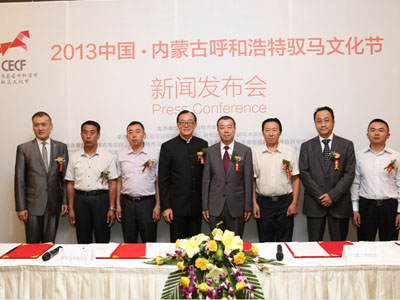 • a Gala Dinner;
• Thoroughbred Auctions;
• an eight race non-betting exhibition program that will offer the richest prize money in Mainland China. (More than 40 internationally bred thoroughbreds, including 13 stakes winner and brothers/sisters to stakes winners, from Europe and Australia will compete on a day that will also showcase China's most talented performers drawn from more than 25 horse clubs)
The International Federation of Horseracing Authorities, Singapore Turf Club, Irish Turf Club and France Galop publicly endorsed today's announcement of the China Equine Cultural Festival. Industry leaders Coolmore (International), The Aga Khan Studs (France and Ireland), Arqana (France), The Honorable John Warren (bloodstock advisor to Her Highness Queen Elizabeth II), IGB Founder and Think Big Stud owner Dato Tan Chin Nam (Malaysia), Randwick Equine Centre (Australia), Hall of Fame trainer Gai Waterhouse (Australia) and Red Mills feed company (Ireland) have also lent their considerable support to the festival.
The China Horse Club and Sports Bureau of Hohhot are partnering to promote the inaugural China Equine Cultural Festival which will have sponsorship from France Galop as well as a collect of eager and notable local businesses.
International racing standards will be kept with stewards from the Irish Turf Club, France Galop and the Singapore Turf Club;anti-doping control headed by FranceGalop'sDr Paul Gadot; an internationally recognized time-keeper; a world class veterinary practice in Australia's Randwick Equine Centre;a training team headed by multiple G1 winning trainer John Thompson and leading jockeys will be invited from around the globe.