CECF China Equine Cultural Festival • Hohhot 2013 Road Show Held in Beijing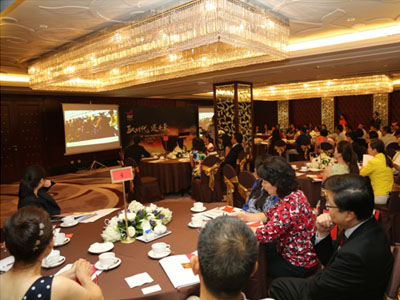 Last August 16, the China Horse Club, as co-organizer promoted the CECF China Equine Cultural Festival • Hohhot 2013 (CECF) event at the exclusive Chang-An Club in Beijing. Eden Harrington, General Manager of China Horse Club (CHC), together with the management team presented an overview of the global thoroughbred industry including the existing conditions and future trends through an impressive multi-media presentation before an appreciative audience.
The CECF road show attracted over 50 guests including entrepreneurs, horse lovers and owners. Mr. Harrington described the equine culture and development and introduced the 2013 CECF schedule including a horse auction which generated a lot of interest among the audience.
The CECF horse auction which is one of the main events will be held on 9 September at the Shangri-la Hotel in Hohhot and will feature 40 internationally-trained thoroughbreds from Europe and Australia to compete in one of the CECF races to be held on 21 September.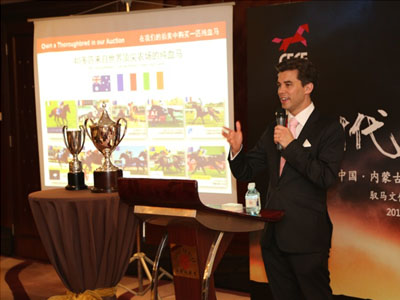 One of the local horse owners who was present expressed his excitement about the event adding that it would be a big bonus for new horse owners to chase China's largest ever prize money of the CECF race meeting.
The CECF Schedule is as follows:
• Sep 09 – Thoroughbred Auction
• Sep 20 – International Symposium and Gala Dinner
• Sep 21 – Race Meeting
For more details, please visit the official event website of China Horse Club at This email address is being protected from spambots. You need JavaScript enabled to view it. .