Pengxin Group sign on to China Equine Cultural Festival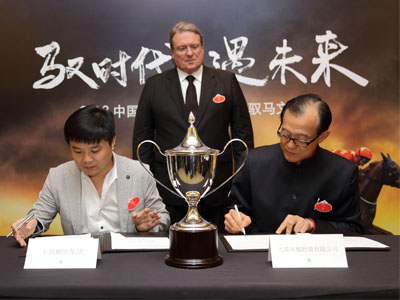 The world premium brands are assembling to promote the CECF China Equine Cultural Festival • Hohhot 2013, with Pengxin Group, one of China's largest and most successful companies, signing on as the naming rights partner to the feature race, the Pengxin National Breeders Cup.
The Pengxin Group has more than 40 companies under its banner with diversified business interests in urban construction, high tech investment, commerce, property, livestock and mining.
The CECF China Equine Cultural Festival • Hohhot 2013 will hold the biggest non-gambling thoroughbred racing in mainland China. The 21st September race meeting has 8 races including 4 international ones. The total value of all the prize money, prize, trophy and Longine watch are evaluated about 5 million yuan.
Pengxin and The China Horse Club jointly announce that the Pengxin National Breeders Cup will be run over the mile distance of 1600m - a classic race distance.
In providing this support Pengxin joins a list of partners and sponsors that includes France Galop, Longines, NMTV ,Blue Heavens, Mengjun Horse Industry, Coolmore, Inglis, Desert Star Holdings, Shangri La Hotel Hohhot, Arqana China and TAK Design who are all working with the promoters, China Horse Club and the Hohhot Sports Bureau, in delivering a successful CECF to a global audience of up to 500 million people.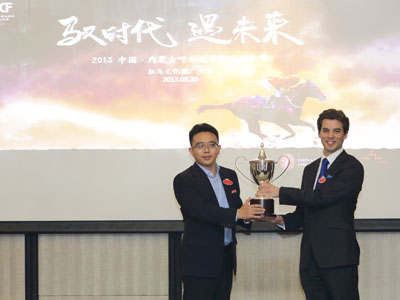 This two day showpiece will be held over 20th – 21st September 2013 and will be a celebration of China's emergence as a meaningful participant in the thoroughbred industry.
In announcing its involvement in China's thoroughbred industry, tourism and social programs through the CECF, PengxinCEO, Jiang Lei said"the breeding, racing and auction industries of thoroughbred racing are areas that Pengxin is keen to pursue in forthe next ten years. We look forward to partnering with the world's top breeders in China to grow this industry so that it is an international player."
The Pengxin National Breeders Cup was officially handed over to The China Horse Club by Pengxin at a ceremony in Shanghai. The event will be the feature of a seven race program that has attracted quality thoroughbreds from Australia, France and Ireland as well as China's best credentialed thoroughbreds for feature races for local runner.