RMB 1 Million Sale At CECF Inaugural Auction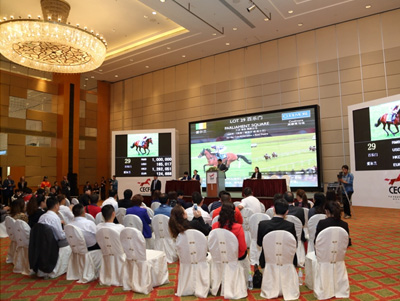 The inaugural CECF Thoroughbred Auction was set alight with a RMB 1 million sale of the stakes winning and Group 1 placed colt Parliament Square yesterday.
The Coolmore Stud offering, which competed at this year's Royal Ascot meeting, was seen by many as the most commercial thoroughbred listed for sale and demand for the striking colt confirmed this. Fellow colt, Illustrate, sold for RMB 500,000 with the buying bench showing an inclination to target colts.
The auction, which was held in the ballroom at Shangri La Hotel, Hohhot, was attended by representatives by notable local and international organizations including Coolmore's Tom Magnier and Racing Manager Tammy O'Brien; the Hong Kong Jockey Club'sChen Wei Qiang; Darley's Wang Wei, Arqana's President Eric Hoyeau, Managing DirectorOlivier Delloye and Vice President of International Development Marc de Chambure; and Magic Millions' Sales Director David Chester.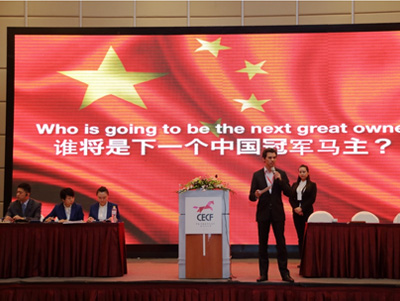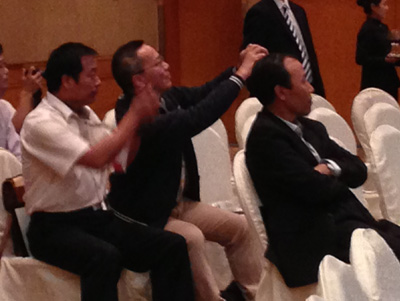 Coolmore's Tom Magnier was delighted with the sale of Parliament Square which defines a new chapter in the emergences of thoroughbred racing in this country.
"This is the first sale and there has been a one million [RMB] sale," Mr Magnier said.
"Coolmore is delighted with the result and wishes his new owners all the best. He is a lovely colt and he will be a great chance in the RMB 1 million Pengxin National Breeders Cup."
The 39 thoroughbreds offered at auction will exclusively make up the fields of the four feature events at the CECF Race Meeting on 21st September.