CHINA CHAMPS AT THE BIT (from china daily)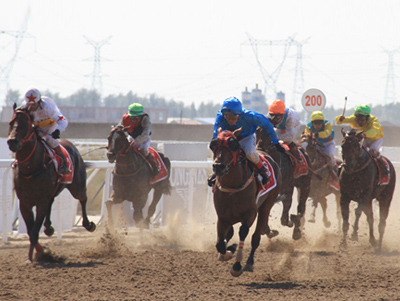 The race is on to build a nursery for thoroughbred racehorses. However, it's likely to be a canter rather than a gallop. Wang Kaihao reports.
Horseracing is common on grasslands inhabited by Mongolians, but something has suddenly made such scenes look more exotic. When eight thoroughbred horseracing competitions began on the turf at Hohhot, capital of the Inner Mongolia autonomous region, on Sept 21, the stakeholders of this event unanimously believed it a milestone for an almost non-existent industry on the Chinese mainland.
More than 30 thoroughbred horses from Australia, Ireland, and France joined their Chinese counterparts to gallop for the finale of the first China Equestrian Cultural Festival, which is claimed by organizers to be the highest-level international horseracing event ever held on the mainland.
"I am an ethnic Chinese," says Teo Ah Khing, a Malaysian architect, who is also the chairman of Hong Kong-based Desert Star Holdings Ltd and the initiator of CECF.
"When I travel around the world participating in racing, I always wonder when the Chinese mainland can have this kind of event with a global influence. Finally, we've started,"
Spectators cheer for the winning jockeys, but they will not win a penny. While horseracing betting is known worldwide as Hong Kong's business card, it is still not permitted on the mainland. When Hubei's provincial capital Wuhan began the mainland's first thoroughbred racing in 2008, it ignited huge controversy and public concern for what was considered a threat to the nation's legal stance against gambling.
"High-level racing does not necessarily rely on betting," Teo Ah Khing explains. "If the purse is high enough, the competition can also be very attractive."
According to him, the lack of profitable races is an obstacle for Chinese thoroughbred owners in covering the huge cost of raising expensive horses. The races in Hohhot have broken the bonus records in the mainland. The highest bonus for a single race is 1 million yuan ($163,300) and the lowest is 200,000 yuan. The previous record was merely 100,000 yuan.
Teo cites the successful example of the annual Dubai World Cup, which does not allow wagering. The $10 million-plus bonus for a single race makes it probably one of the most luxurious sports events in the world.
"We cannot compare with Dubai right now, but as China has a great potential horse-breeding market, the bonus will increase little by little," says the Malaysian, who confirms the event will be held annually.
Still, Dugarjavin Manglai, vice-president of Hohhot-based Inner Mongolia Agricultural University and secretary-general of the China Horse Industry Association, worries these fine horse breeds would be too removed from people's daily life and thus lack a solid foundation of fans if they were limited to high-level competitions.
He expects a big market for these horses, accompanied by the public's full participation, and reveals that China is second only to the United States in raising the largest number of horses.
"I don't believe betting on horseracing will surely lead to gambling," he says. "It can copy the model of a sports lottery, but relevant rigid regulation is a must. Before policies are ready, it would be premature to promulgate a horseracing lottery."
Nevertheless, Teo Ah Khing adds that a promising scenario, whatever its form, will only be nurtured by a sound thoroughbred nursery industry in China.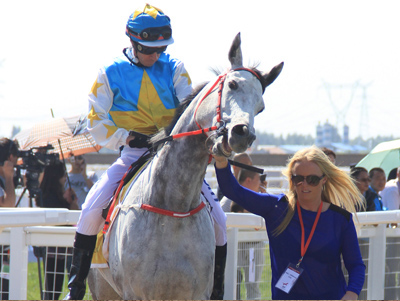 "Grasslands in Inner Mongolia are home to a large number of ranches and horses, it should be where the industry begins in China," he says. "A self-sustainable system will also become a driver of jobs. The example here can be a guideline for the whole nation."
Louis Romanet, President of the International Federation of Horseracing Authorities, a Paris-based organization overseeing member countries' breeding, racing, and wagering rules, cited his homeland of France as an example while attending CECF. More than 75,000 people benefit directly from the horse industry in his country, 45,000 in the relevant agricultural activity, he says.
"The horse industry in France is in a situation of full employment and creates new jobs every year for young people," he says, expecting the number will be much more in China if a modern nursery industry is built up.
China is not among IFHA's 60 or so members. Romanet vaguely excluded the possibility that China would soon get on board by saying that it takes a few years for a new applicant to have its national organ and a complete legal system regulating horseracing, which is essential to enter his organization.
A cheerful fact is that the Ministry of Agriculture is to release the country's first detailed technical guidance system for the equestrian industry in 2014.
Sun Wei, an assistant to the CEO of Pengxin Group, a Shanghai-based real estate developer, says that the establishment of a thoroughbred nursery will launch a valuable industry chain all over the country. "It will encourage the development of feedstuff produce, racehorse training, auctions, jockey clubs, tourism and many other business sectors."
The group, which has bought 16 horse ranches in New Zealand for dairy produce, will soon construct China's largest horseracing course equipped with a thoroughbred nursery center. Referring to the world's highest standard, the center near Daqing Mountains in northern Hohhot will cover a total area of 2,000 hectares. Construction of the main course is scheduled to be finished before 2017.
"Since we have owned some business in agriculture and had experiences overseas, it won't be strange to set foot into the equestrian industry," Sun says.
However, Sun adds it remains risky to venture into a completely new field.
"We've set a term of three to five years to see whether the nursery industry can be successful," he says. "Our future plan to build more courses will depend on experiments in Hohhot. If everything goes well, I believe numerous racecourses will mushroom nationwide.
"The mainland has the capacity to become a base providing top-level racehorses for Hong Kong, Japan, and Singapore. I hope Hohhot can be an international hub for racehorse breeding in the near future."
A major threshold for exporting of thoroughbreds is the quarantine issue. The country is still considered by foreign authorities unsafe from infectious equestrian diseases, so foreign horses have only one-way tickets entering the border.
Contact the writer at This email address is being protected from spambots. You need JavaScript enabled to view it. .